Serene Air operates domestic flights from Pakistan's main cities, and those are; Islamabad, Karachi, Quetta, Lahore, Peshawar, and Faisalabad. Serene Air has 5 aircraft comprising of 4 Boeing 737-800 and 1 recently acquired Airbus A330-200. Passenger capacity in B 737-800 is 189, and A330-200 is 275. It operates almost 84 domestic flights a week. The private airline decided to start international operations from Islamabad to Sharjah and Lahore to Dubai on 16th March and 2nd April. Serene Air Flight ER703 successfully landed at Sharjah International Airport on time.
Serene Air's business class offering is known as "Serene Plus," contributing to the airline's ability to offer value to both domestic and foreign customers. Serene Air is currently Pakistan's only private airline with a business class service. This has been a milestone for the private organization amidst the global pandemic hitting the aviation industry. Therefore, Serene Air began its international operations, despite the COVID-19 restrictions. A private airline in Pakistan is supposed to at least one successful year of domestic operations, and should have at least 5 operational aircraft in order to start international flights.
Socio-economic routes of Pakistan
They are eight destinations that include Chitral, Gilgit, Skardu, Gwadar, Panjgur, Turbat, Pasni, and Jiwani. These destinations and routes are described as socio-economic routes by Pakistan Civil Aviation Authority. Currently, PIA is operating flights to Skardu and Gilgit only. There are no other carriers ever commercially operated these routes. Serene Air, considering the brand image should also consider operating these routes to capture its market.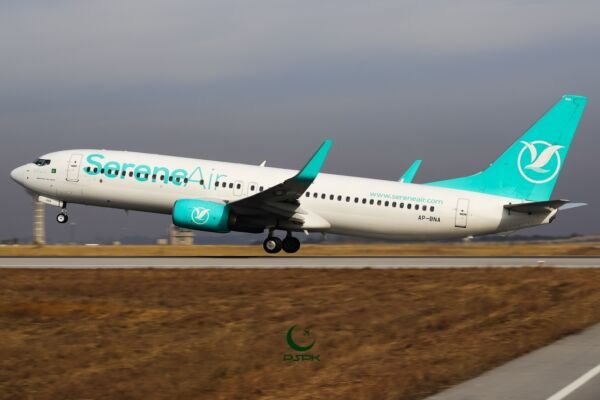 Flight operations to northern routes will cater to the travel demand that exists in these places. Travelers from northern cities usually have to travel to developed cities to travel further by air. This gap in demand can be filled if Serene Air begins operating flights to these socio-economic routes. This will greatly impact the country's socio-economic development by promoting safe air travel in these regions instead of risky travel by road. Additionally, it will also promote domestic and international tourism in Pakistan, leading to growth in GDP.
Aircraft for flight operations to northern routes
Keeping in mind the demographical and infrastructural limitations that come with the northern routes, It is only viable that Serene Air acquires suitable aircraft for flight operations to these areas. Airblue, another privately owned Pakistani airline, had planned to carry out similar operations by acquiring two ATR 72.  However, it did not work out because of a leasing dispute with the lessor regarding the aircraft.
Although, Skardu airport is capable of handling narrow-body jets. Keeping in mind the load factor and the weather of northern areas, a turboprop would be a great choice. However, this is all a fairytale, as per the Civil Aviation Rules 1994, all the airlines are required to operate these routes despite having low yield. The airlines rather choose to pay the penalty for not flying to these routes. This is an untapped market, definitely, with an influx of tourists, the demand will rise. With the increasing demand, it will catch the attention of airline's management to start flights to these airports.