Feminism – A concept of gender equity
In the modern era of feminism, men and women are raising their voices against gender discrimination. It is high time that the airline realizes its fault on the matter. It is only unfair that a certified pilot woman cannot apply for the captain's position, and a trained man cannot apply for the position of the cabin crew. It's the 21st century, and those days are long gone when women were expected to be in care-taking professions and embarrassing for men to be in those positions.
Women in Aviation in Pakistan
At present, in Pakistan, there are about 60-65 female pilots who qualify for the position. In April 2018, Lahore High Court (LHC) ordered Pakistan International Airlines to allot 10 percent of the recruiting quota to women pilots. Induction of female pilots in Pakistan International Airlines (PIA) was allowed under Benazir's first government. Captain Ayesha Rabia Naveed was the first female pilot in Pakistan who served as a commercial airline captain in 2005.  She had 6000 flying hours at that time. She retired in 2017 as a Captain of the Airbus A310. By her retirement, she had flown Fokker, Boeing 737, Boeing 747, Airbus 300, and Airbus 310.
For the first 55 years after Pakistan's independence, women who wanted to serve as pilots in their country's air force were denied entry. Women had historically only been recruited in non-combat roles by Pakistan's armed forces, such as the medical corps, and the PAF had remained all-male throughout its existence. Women have been allowed to enroll in PAF Academy Risalpur aerospace engineering and other programs, including fighter pilot training, since 2003. Flying Officer Marium Mukhtiar of Pakistan Air Force became the first female pilot to have died on a mission when a PAF trainer jet crashed near Kundian, Mianwali, in 2015.
Gender discrimination by Airblue
Recently, on the official Youtube Channel of Pakistan's renowned Media person Mr. Mubashir Lucman, a video is making rounds on social media. They have discussed that Airblue is gender-biased in the hiring advertisements of pilots.
However, after this occurrence, we have gone through airblue jobs opening page on their website, the gender discrimination on certain job openings where only females were required for a certain job description such as cabin crew, Airblue never hired any male stewards in the role. However, the recent airblue job ad for the pilot's requirement on their brand new Airbus A321neo fleet specifically mentions the male requirement for the role. However, Airblue jobs portal on their website mentions no specific gender on it.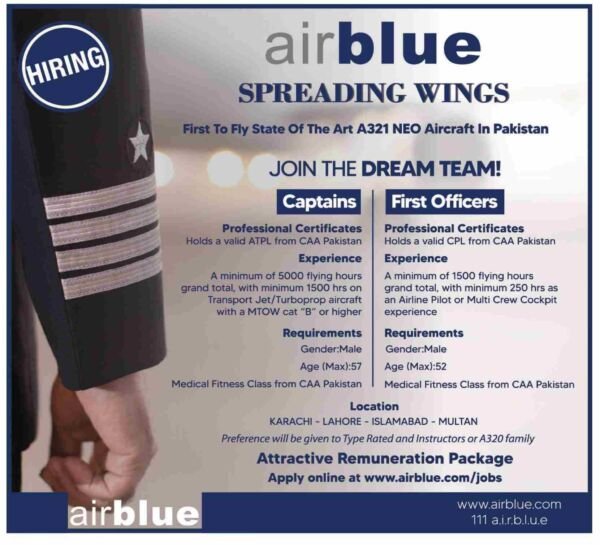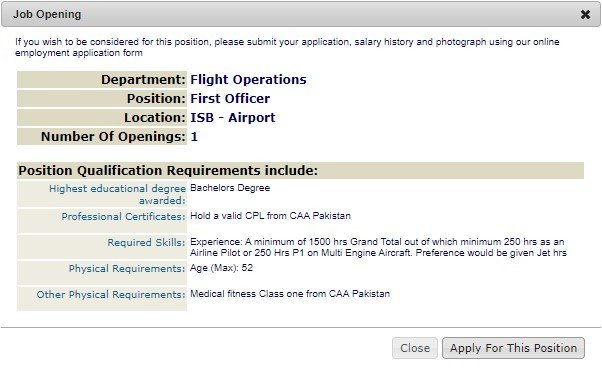 Airblue Jobs
Although a question that can be raised here is, we have seen females in major roles of management in Airblue. The airline's Director Marketing, Deputy Director Operations are females. We do not see gender discrimination as a whole in the airline. Although, there are no female pilots in the workforce of Airblue. We tried to research a little about what the labor law in Pakistan advises about the said scenario.
Article 25 of Labour Rights in the constitution lays down the right to equality before the law and prohibition discrimination on the grounds of sex alone.
Article 37(e) makes provision for securing just and humane conditions of work, ensuring that children and women are not employed in vocations unsuited to their age or sex, and maternity benefits for women in employment.
Article 38 of the Constitution imparts the State's obligations aimed at achieving equality in the form of securing the well-being of the people, irrespective of sex, caste, creed, or race, by raising their standard of living, by preventing the concentration of wealth and means of production and distribution in the hands of a few to the detriment of general interest and by ensuring equitable adjustment of rights between employers and employees, and landlords and tenants. All citizens are bestowed, within the available resources of the country, facilities for work and adequate livelihood with reasonable rest and leisure and the necessities of life, such as food, clothing, housing, education, and medical relief, for all such citizens, irrespective again of their sex, caste, creed or race, as are permanently or temporarily unable to earn their livelihood on account of infirmity, sickness or unemployment.
However, with the said above legislative articles in the constitution, there is hiring on the gender-specific job description. The article allows the employer to NOT hire children and women in vocations unsuited to their age or gender. This highlights that Airblue and its HR policies are not completely gender discriminative but are in accordance to the constitution of Pakistan. Roles are offered according to what the organisation thinks are apt for specific jobs. Females are working in the workforce in domestic or international stations but we have seen no female pilots in the workforce. That also depends on whether any female pilots are ever interviewed or qualified to be a pilot in the airline.
The video on Mr. Mubashir Lucman's channel only focuses on the ad on which the gender-specific job vacancy was advertised. This still raises the doubt whether the airline is gender discriminative as a whole or not.