Pakistan International Airlines has a long 65 years of history. Pakistan's national flag carrier had its enrich history that tells us the era of truly great minds. PIA was an icon and known to be one of the world's best airlines in the 1960s. PIA flight made many records, and many were broken by this airline. However, for a few decades, we saw the continuous gradual decline of the airline. The airline that helped other carriers develop and train their crew today suffers from a lack of professionalism.
In this article, we will discuss PIA and its great potential that it possesses. We still believe that the only area where the airline needs to focus is professionalism and standards implementation. Despite having so many problems simultaneously, PIA has the potential to overcome all of them if the planning and implementation are right.  This article is dedicated to appreciating those who are the greatest strength and backbone of the airline.
In the first phase of the article, we will discuss the bright side of the airline, and the second part will feature the areas where PIA can focus on improvement. We will discuss PIA's currently available assets and resources. In this part, we will discuss how PIA can manage to bounce back using the available resources.
The Network
PIA has a long history of flying to most of the hot destinations of the world. As a matter of fact, PIA still has held its slots of operations to most of these destinations. Some of the flight slots were lent to Etihad Airways and Turkish Airlines. This is why PIA has a strong codeshare agreement with both of these airlines to operate the flights with PIA's flight code. PIA holds a strong presence in the Middle East. Saudi Arabia, one of the most profitable routes, PIA had rights to fly up to 50 flights a week. During the Hajj & Umrah season, the number goes up to 70 flights a week as well. PIA was one of the first airlines to operate flights to Dubai. Currently, PIA operates flights to Dubai from Karachi, Lahore, Islamabad, Peshawar, and Multan.

Not just Middle East, PIA holds a strong presence in Europe as well. However, PIA had to shrink the network during the decline period. It still holds the slots to operate those routes. It was a treat to see PIA Boeing 747s ruling the European and British skies. The decline and being non-adaptive towards product development eventually resulted in the decline of passengers flying with PIA. North America, especially the United States, was the hot favorite route of PIA pilots to fly. PIA operated in Chicago, Washington, Houston, San Francisco, and New York. The routes were operated by Boeing 747s, Boeing 707s, DC10s. Boeing 777s were sold to PIA to pave the way for the direct connections between Pakistan and United States. But eventually, due to the deteriorating law and order situation in Pakistan, it remains a dream for PIA to operate direct commercial flights from Pakistan.
The domestic network is commendable, but we will discuss it in the next part of this article, explaining how the domestic network can feed the international network of PIA.
The presence was just not limited to the first world in the west, but it was similar in the east. PIA had left its footprints in Japan, China, Bangkok, India, and Bangladesh. Flights to India and Bangladesh are were suspended after a continuous drop in sales. The drop in sales led to the closure of routes to African destinations as well. PIA operated flights to Egypt and Kenya regularly. There was a time when PIA used to operate charter flights between Nairobi and Jeddah to transport Kenyan pilgrims. Today, Kenyan airlines have emerged as one of Africa's strongest airlines, connecting the African countries worldwide.

PIA still has the potential to have to gain its presence in the abandoned regions. However, they have to work on certain areas before they could. We will discuss this in the next part of the article.
Pakistan International Airlines Fleet
PIA has operated different fleet types in its great history. The mixture of the fleet operated in the past consists of Boeing and Airbus, Narrow-body and wide-body, Turbo-prop and Turbofan, Quad engines, and twin engines. The airline is experienced in operating and maintaining a variety of fleets in the past. Currently, PIA also operates a fleet of Boeing 777s and Airbus A320s. However, PIA failed to replace the seating capacity after the aging Boeing 747s and A310s were phased out of service. The current number of the fleet is ideally not enough to accommodate multiple regions. However, with all the available resources with a slight renovation in the product and its service, PIA can bounce back and gradually and regain its trust among the passengers. Though the fleet is aging and needs a replacement shortly, PIA can emerge its presence in the most profitable routes.
PIA Engineering & Ispahani Hanger
PIA's Engineering is the backbone of the airline. Ispahani Hanger in Karachi's Jinnah International Airport, the only base maintenance enable hanger in Pakistan, served for more than 3 decades. It is capable of catering 2 wide-body aircraft mainly for C & D checks. PIA has line maintenance infrastructure, which is functional in Karachi, Lahore, Islamabad, and Multan. Throughout history, the PIA aircraft engineers have proved to be self-sufficient to keep the PIA fleet alive and flying. The Ispahani hanger was built in the 1980s with an investment of 17 million dollars back then.
However, the decline of the airlines affected PIA engineering as well. Today, PIA engineering faces the unavailability of spares and tools. Due to infrastructural decline, PIA Engineering is unable to overhaul engines locally. Now the airline has to pay in foreign currency and engines' transportation when they need an overhaul. PIA engineering is still serving with a lack of motivation and enthusiasm to follow standards, leading PIA to lose its EASA 145 endorsement in 2016. Considering the downfall of the whole engineering department, PIA is flying with the similar potential it had 50 years back in history. Only what it needs is the true motivation to engage with professionalism.
PIA Traning Centers & SBB Flight Academy
Another major asset PIA has is its training centers. PIA has eight (8) training centers across the country. PIA also has a flight training academy named Shaheed Benazir Bhutto. The PIA Training Centers are located in Karachi, Lahore, Islamabad, Peshawar, Multan, Nawabshah, Sawat, and Quetta. The ripple effect of the decline was on PTC as well when EASA declined the 147 approval to PTC in 2012, followed by revoking of EASA 145 approval as well. However, the available resources still manage to provide reasonable and affordable Aircraft Maintenance Training to aspiring AMEs.
PTC also offers cabin crew training and flight training wing under Captain Abdullah Baig's flight training wing. Captain Abdullah Baig Flight Training Wing offers Simulator training to PIA pilots. The center is currently equipped with Boeing 777 and Boeing 747 Simulators. Since the phasing out of 747 from the fleet, the simulator is hardly being used. The B777 simulator is used for refreshers and recurrent training of Pilots.
Shaheed Benazir Bhutto Flight Academy is the situation in Karachi. It operates a fleet of Cessna 172 and offers Commercial, private, and airline pilot licenses. PIA's given training resources are enough to have a full-fledged Aviation Trainings institution, which can offer beyond flight training and aircraft maintenance engineering. But to achieve this dream, there is a long way to go with motivation and professionalism.
PTC has several other training units that can be utilized to piece back the airline's lost professionalism. The goal is to increase cash inflows, and PTC can prove to be one of the biggest assets of PIA to improve its position regionally. If deployed smartly, PIA can surely gain the trust and has lost over time with all available resources.
Airport Hotel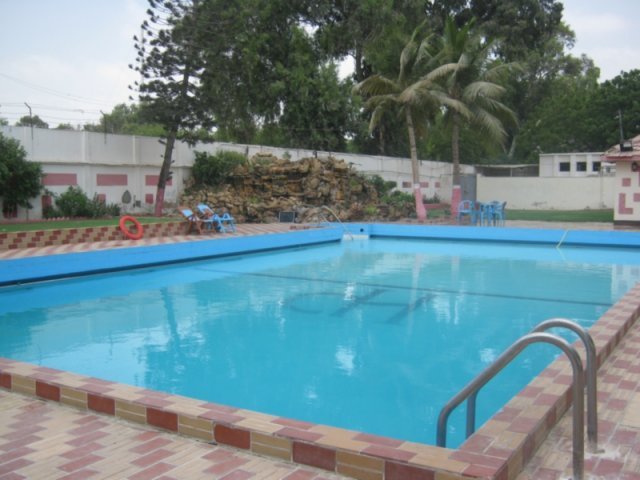 Karachi airport has an airport hotel, previously named Sky Rooms. The hotel has a unique infrastructure because it is the situation over a significant land. It has over 300 rooms and all the facilities that a good reputable hotel such as;
Gymnasium
Jacuzzi
Sauna
Steam Bath
Warm Water Facility in Winter for Swimming Pool
Internet Facility (Wifi)
Cable TV in Every Room
Split in Every Room
Mini-Bar in Executive Rooms
Shuttle Service Round the Clock
Shopping Arcade
Game Room (Indoor)
Car Parking for Guest and Visitors
Standby Power Generator
Although, currently, most of these services are not operable. The hotel is under the ownership of PIA, and it operates. This is another asset that has faced deterioration over the past decade. This is another door of PIA's opportunity to consider its available assets and handle them with professionalism to offer services. Being a state-owned carrier and owning most of the assets, it is high time PIA management should consider these assets and available resources.
Pakistan International Airlines Cargo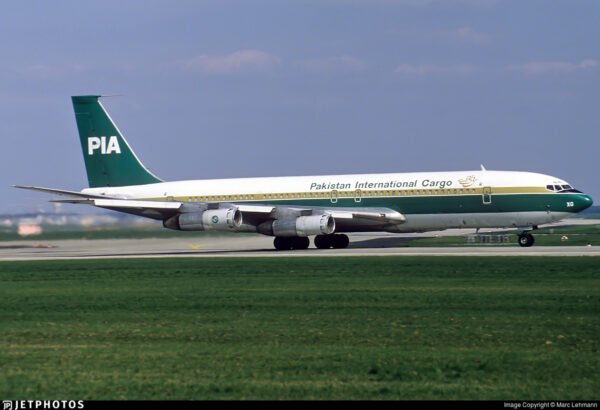 PIA has its cargo infrastructure in Karachi, Lahore, and Islamabad. The infrastructure is rusted due to the airline's continuously worsening situation, resulting in a ripple effect on the cargo. PIA's domestic brand "SpeedEx" was remained unattended for a long time. PIA once operated special freighter aircraft to cater to the country's growing cargo demand. However, the situation here never improvised. Rather it continued to fall. And today' PIA cargo warehouses are haunted because of considerably less cargo business. PIA still manages to stay in business by providing cargo space in cargo holds to the exports.
Flight Kitchen & Ground Handling
Like any other legacy carrier or a full-service carrier, PIA also has its own ground handling and flight kitchen facility. The flight kitchen facility is limited to only a couple of cities within Pakistan. Other flight catering needs are fulfilled through the local contractors. The TGS (Technical Ground Support) or Ground Handling Support equipment, However facing a huge crisis due to the unavailability of the required number of equipment in some stations. The equipment such as stairs, start carts, AC vans, refueling browsers, catering vans, Ambulifeters mostly have completed their shelf life. The replacement of this equipment was never attempted in the past couple of decades. Due to the continuous downfall of the resources, today, PIA faces this challenge to keep the TGS department or privatize it.
The infrastructure is enough to get PIA back in business only if the right person for the right job is deployed. These are the assets and resources that came across the internet. There are foreign properties and other assets that PIA still owns. But due to the continuous decline, political influences, unions, and other unconventional events result from what PIA is today. A symbol of failure and unprofessionalism. In the next part of this article, we will discuss how PIA can deploy these resources in a manner where they can juice the maximum utilization and make money out of it. Maybe many other assets are not mentioned in this article, but definitely, what we have discussed here gives us an idea of the potential this airline possesses. The only thing that needs to be considered is that How much is the management, government, and other stakeholders are willing to change the fate of this great organization.