Pakistan International Airlines Fleet
PIA has a fleet of modern aircraft that are spacious, comfortable, and designed to reach you to your destination safely. PIA operates a range of advanced aircraft, ranging from the world's preferred Boeing 777 airplane to the super-quiet Airbus A320. Considering the wide-body aircraft, Pakistan International Airlines has the highest number of such aircraft. Serene has just added an Airbus A330 to its fleet.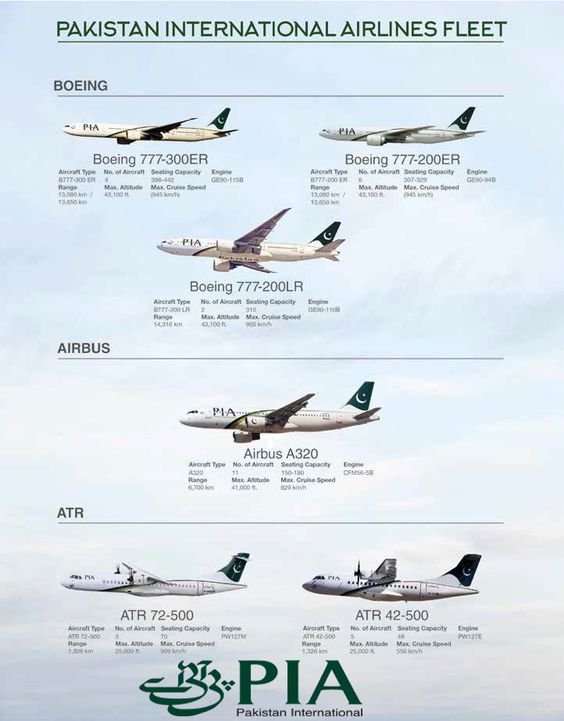 The Boeing 777 family comprises long-range, wide-body twin-engine airplanes. PIA was the first airline to operate all the three variants of the 777 families: 777-200LR, 777-200ER, and 777-300ER. All of them are well-loved by PIA's seasoned travelers for their spaciousness and comfort. PIA also holds the privilege of being the launch customer for 777-200LR, one of PIA's aircraft, which holds the longest commercial jet flight in aviation history. PIA is serving destinations in the USA, Canada, UK, and Europe through its 777 fleets.
"Now's the perfect time to extend your success," as claimed by Boeing
The Boeing 777's unique combination of superior range, outstanding fuel efficiency, and passenger-preferred comfort has created long-range success for carriers worldwide. And the 777-300ER now gives operators a perfect opportunity to extend that success. Recent upgrades further reduce costs and boost revenue, and the 777's flying experience is still number one with passengers.
Serene Air is currently operating with four Boeing 737-800 and one Airbus A330. The airline acquired the A330 aircraft last year. The addition of a wide-body aircraft is aimed at expanding the operations beyond the borders for long-haul flights. The airline has received the nod from concerned authorities to start the international flights to UAE and Saudi Arabia.
Benefitting from over 20 years of continuous incremental innovation, Airbus' A330-200 is one of the most modern and reliable aircraft in the sky. Typically flying between 210 and 250 passengers, it can be tailored to carry as many as 406. The twin-aisle wide-body aircraft provides all passengers with an abundance of personal space. The modern cabin brings a level of comfort and relaxation to long-haul flights, even in the economy.

Analysis
Both aircraft have their own pros and cons. They have proven their mettle in the global aviation industry. At present, Pakistan International Airlines is the lead operator of B777 whereas, Serene Air has one A330. By comparison, there is no competition in wide-body aircraft among the airlines in Pakistan. Being the biggest fleet in a country, PIA still enjoys the utilization of its B777 fleet on various international routes, including Europe, the USA, and Canada in particular. Serene Air is in its infancy for formal international routes. Though, the airline has done several flights for ex-pats from UAE.
Though PIA is facing problems due to the fake license scandal of pilots after the May 2020 crash of PK-8303, on the whole, the airline is better off with its wide-body aircraft.  All the four airlines in the country are primarily competing on smaller wide-body aircraft, including B737-800, A320, and A321. The competition of wide-body long-haul aircraft between PIA's B777 and Serene Air's A330 has just started. If Serene Air opts for more A330 for its expansion plan, then we can foresee fair competition. From the load factor view, Serene Air's A330 can create troubles for PIA on Gulf routes. Due to better service, Serene Air is seemingly to grab PIA's share in the Gulf region.
Somehow, there is a good majority of Pakistanis residing in the gulf region. People regularly travel from Gulf states to  Pakistan. With better service and the addition of more wide-body long-haul aircraft (most likely the A330s), there could be a possible shift of balance on Serene's side in the future. However, it will take time due to the ongoing COVID-19 pandemic.
Due to heavy losses resulting from travel restrictions, most of the airlines worldwide have retired long-haul aircraft from their fleet. Pakistan Aviation Industry is not too big. It has a limited number of bigger commercial aircraft. Similarly, most airlines in Pakistan are competing on small, wide-body aircraft, as mentioned above; therefore, the ripple effect has not too much affected the Pakistan Airline Industry.