A brief history of PIA & Serene Air
Mr. Mohammad Ali Jinnah, the Founder of Pakistan, ordered Mr. M.A. Ispahani, a leading industrialist, to set up a national airline on a priority basis in June 1946, when the country was still in its fight for independence. A new airline was founded on October 23, 1946. Orient Airways Ltd. was established in Calcutta as a pilot project, with Mr. M.A. Ispahani as Chairman and Air Vice Marshal O.K. Carter as General Manager. The new carrier's headquarters remained in Calcutta, and it was granted an operating license in May 1947. Orient Airways was a small, privately-held enterprise with limited resources and capital. It could not be permitted to expand and develop on its own. The Pakistani government then decided to create a state-owned airline and asked Orient Airways to join it. The merger resulted in the formation of a new airline on January 10, 1955, due to the PIAC Ordinance 1955. This is how PIA and Serene Air was formed.
Many years after the national carrier's flight operations, Serene Air came into being as a private Pakistani airline. Serene Air was awarded a license by the Pakistan Civil Aviation Authority in March 2016, allowing it to operate. In November 2016, the company received its first aircraft, a Boeing 737-800. A week after receiving its air operator's certificate, the airline began operations on January 29, 2017. On January 29, 2017, the first flight left Islamabad for Karachi. PIA is the nation's leading carrier, and the only thing common is the nationality of the airlines. From history to its present-day operations, it is only unfair to consider the two as competitors.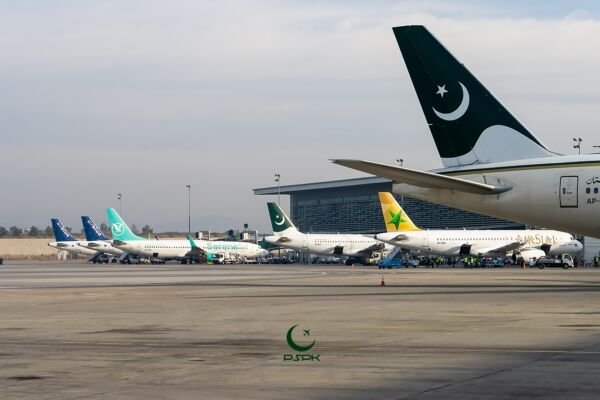 Present-day fleet and operations
PIA is a full-service legacy carrier whereas Serene Air is a mid-range regional carrier.  Serene Air has five aircraft, including four Boeing 737-800s and one Airbus A330-200. PIA has 26 aircraft, including 12 Boeing 777s, 10 Airbus A-320s, and 4 ATRs. In the financial year of 2018-2019, The national flag carrier, PIA, received the most passengers with 1,795,877, followed by Serene Air with 875,536. In terms of corporate management, Pakistan International Airlines PIA Corporate Limited is owned by the government, with only 14% of shares owned by private shareholders. Serene Air is an entirely private company.
PIA shifted most of its affairs to Islamabad except for the finance, engineering, and situation room located in Karachi. Similarly, Serene Air has based all its affairs in Islamabad. In Serene Air, catering units, ground handling, and engineering are operated by independent companies as in they are outsourced to respective service providers. In the late 90s, there were plans to privatize the airline, and outsourcing basic units such as catering and ground handling was considered, but no agreement was reached. Therefore, to this day, PIA has not outsourced these operations, and the organization carries them out.
In 16 countries across Asia and the Middle East, PIA serves 19 domestic and 24 foreign destinations. The airline has flights from Islamabad, Karachi, Lahore, Peshawar, Multan, Sialkot, and Faisalabad to Jeddah, Medina, Riyadh, Dammam, Dubai, Tokyo, Kuala Lumpur, Barcelona, and Milan. The fleet also included Europe and North America, but the flights were suspended. Serene Air operates domestic flights from Pakistan's main cities: Islamabad, Karachi, Quetta, Lahore, Peshawar, and Faisalabad. The private airline decided to start international operations from Islamabad to Sharjah and Lahore to Dubai on 16th March and 2nd April.