The European Union Aviation Safety Agency (EASA) placed a ban on PIA in July 2020. This step was also followed by the UK Civil Aviation Authority and Federal Aviation Administration US. This was a severe hit, especially after when the pandemic situation hit the global aviation industry. Pakistan International Airlines operated flights to Italy, Norway, France, Denmark, and Spain, prior to the ban.
Why was PIA banned?
PIA flight 8303 crashed in Karachi due to reasons that are still to be found on 22nd May 2020. It was commonly thought of as a pilot error. 97 souls on board lost their lives, including 8 injured on the ground, and one of them passed away later due to severe injuries. This accident raised a serious question on the competency of the pilots in the national carrier.
Ghulam Sarwar, the aviation minister of Pakistan, claimed that 260 out of 860 active were holding fake licenses or had obtained them through unfair means. He made these claims a few days after the crash incident of 8303.  These claims garnered global attention. The aviation industry of Pakistan was blown away by the comments made by the minister. International aviation bodies started questioning the competency of Pakistani pilots working in other airlines as well. In response to the situation, EASA banned flight operations of PIA, and British and American aviation authorities followed this decision.  The ban was imposed for six months, effective from 1st June 2020.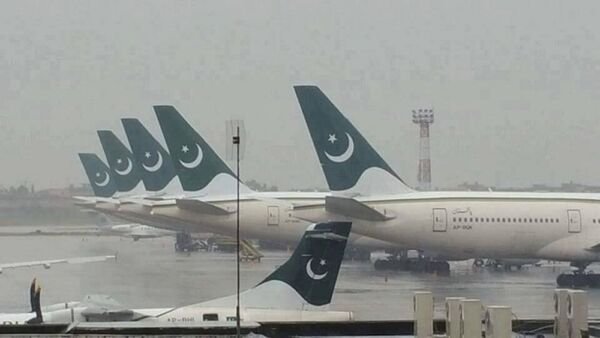 What does PIA need to do for the ban to be uplifted?
PIA will have to upgrade its safety standards by enforcing new exam systems, auditing all pilots, and extensive makeover of its crew management resources. The European agency had given PIA two months to appeal its judgment. Still, the airline's management, led by Air Marshal Arshad Malik, opted not to do so due to a team's visit from the International Air Transport Association's (IATA) Operational Safety Audit (IOSA) to review the airline's operational management and control systems. In September 2020, an IOSA team visited the country, focusing on PIA's flight operations, passenger service, engineering, and other aspects. However, PIA received a disappointing response from the team, which led to a further extension of the ban to three more months. The national carrier requested EASA for provisional permission to operate flights in the EU. However still, EASA is not yet convinced about the up-gradation and has ensured that it will not be lifted until safety audits are carried out as per EASA rules. The European Commission and ICAO's inquiry into the loss of confidence in the Pakistani CAA's registration and supervision operations was the second cause that contributed to the suspension of Third Country Operator Authorization. EASA told PIA that it looked into the matter of "fake" pilot licenses and that the ban would be reviewed after an investigation. Its officials were unable to visit Pakistan due to the coronavirus pandemic.
Causes that contributed to the suspension of Third Country Operator Authorization
To travel to, from, or within the EU, commercial and charter operators from outside the EU must now receive a Third Country Operator (TCO) permit. The TCO software ensures that commercial aircraft operating in the area are consistent with ICAO safety requirements.
Operators must demonstrate compliance with ICAO standards.
ACAS 7.1 (for all aircraft above 12,500 pounds).
Implementation of a Safety Management System (SMS). EASA generally recognizes International Standard for Business Aircraft Operations (IS-BAO) certification as demonstrating compliance with TCO's SMS mandate, but these standards are tightening; Approved TCOs cannot demonstrate level 3 SMS by December 2017 will have their authorizations suspended.
PIA lacked compliance in all three aspects, and the rigidity displayed by CAA over fake license matter has stretched this ban for longer than expected
EASA Satisfied with Improved Standards of PIA
In the latest update reported by Express Tribune, on 17th March 2021, The latest meeting of CAA officials and EASA officials via video link were a successs. The representatives of EU member states from Denmark, and Italy particiated as well. The Deputy Director General for Regulatory Affairs Nadir Shafi Dar briefed the participants on the steps taken by Pakistan Civil Aviation Authority. The queries of EASA officials were timely responded and they expressed their satisfaction on the improvements. However, the ban is still not lifted but this could lead to resumption PIA flights to European destinations.