Pakistan's second-largest airline 'Airblue' has announced to offer multiple fare choices onboard UAE flights. The airline already offers three fare classes on domestic routes. The three fare classes consist of separate features from which a traveler can choose the fare which matches the requirement.
Airblue fare classes explained
Airblue's is currently offering "Value, Flexi, and Xtra" fares onboard their network. The Value fare offers No checked-in baggage, a 7 kg hand-carry baggage, onboard meal selection, refunds, and exchange fees are higher than the standard fees if you book Value fare. Seat selection is also restricted.
The Flexi fare type offers similar Value fare features but with checked-in baggage of 1 piece, not more than 20 kg. Standard fees are applied on refunds and change of dates with added fare difference. Travellers can also choose from standard seats on this fare class.
The Xtra fare type is the elite fare class with all Flexi features but an additional checked-in baggage piece of not more than 20 Kg. The exchange and refund fees are lower than the standard fees, and preferred seats such as fast exit rows, extra legroom seats are open to reserve if you book with Xtra fare class.
Airblue UAE Flights
Airblue has announced that it will be offering a 15 KG baggage allowance on its value fare for UAE flights. This gives relief to the passenger class, which is price sensitive. Now they will be able to book a fare class of lower value with the added feature of checked-in baggage.
However, when we checked the airblue's website for the announced changes, it still refers to no checked-in baggage allowance on value fare. Maybe to expect in upcoming days since the airline has officially announced on social media handles.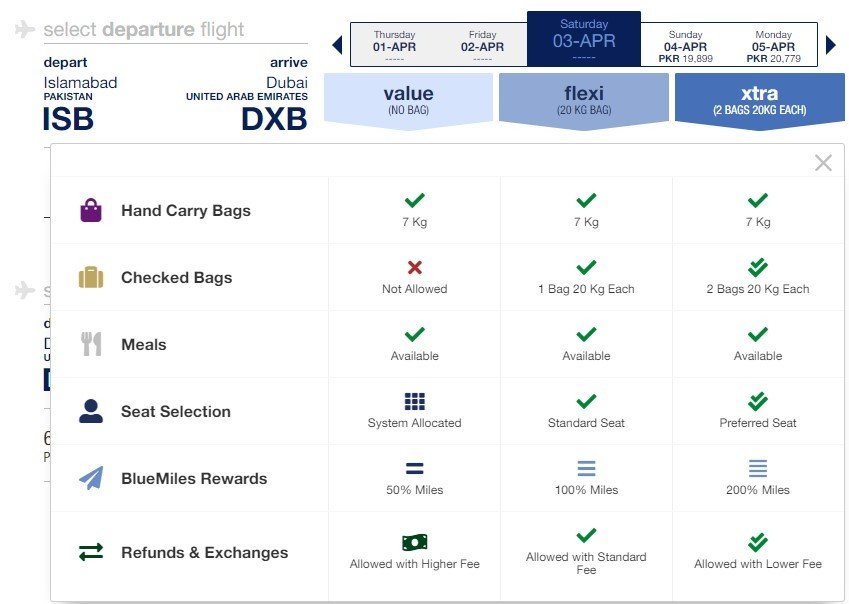 Competition on UAE Flights
After Serene Air entering the international market, starting with UAE flights first, Airblue takes the competition to another level. Currently, Currently, almost 8 airlines are operating between UAE and Pakistan. Three of them are Pakistan's local airlines, i.e., PIA, Airblue, and Serene Air. UAE-based airlines include Emirates, Etihad, Air Arabia, and Fly Dubai. The competition is fairly tough on certain routes.
Approximately 50 plus flights are being operated between UAE and Pakistan with all 8 airlines combined. This shows a huge market potential. AirSial being the latest addition to Pakistan's airline list, will surely be looking forward to grabbing their share as soon as they can go international.
Featured Image Credits: Shujaa Imran at Flickr