With the entry of AirSial, the competition among the private airlines of the state has risen to quite an observable extent. However, what can give AirSial the competitive edge over the other airlines is its increased volume of flights which can achieve via its modification into a low-cost carrier.
AirSial is the newly emerged private air carrier of Pakistan supported by the business community of Sialkot which owns the state's only private airport, i.e., Sialkot Airport Limited. It started its operations in late December 2020, during the time of the global pandemic. The bold decision of AirSial to commence flight operations during such unfavorable conditions shows its courage to welcome risks and responding them through proper countermeasures.
AirSial Fleet
The AirSial with its fleet of modern Airbus 320-200 aircraft serves different domestic destinations within Pakistan. AirSial with a fleet size of 3 Airbus 320-200 with 180 passenger capacity successfully operates in Pakistan.
Low-Cost Carrier in Pakistan
Aero Asia International Airline was the first low-cost carrier in Pakistan. After ceasing its operations, none of the other airlines promoted the concept of a low-cost carrier truly. Hence, this is the appropriate time for AirSial to renovate this concept and earn a safe corner in the industry.
Although Pakistan's aviation market is not upgraded enough to differentiate between full-service carriers and exclusive mid-range carriers, there is still rising awareness among air travelers. A segment exists that wants to enjoy the leverage given by low-cost carriers. Being a new entrant, AirSial can easily grab that segment of the market by introducing air travel with eliminated conventional services.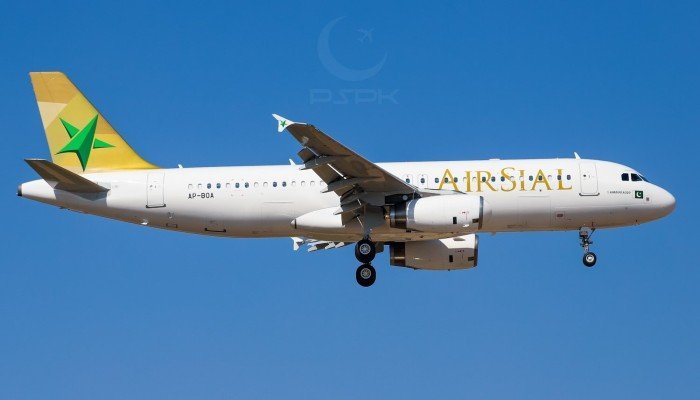 AirSial – The Privileged Low-Cost Carrier
Low-Cost Carriers are the ones that are super concerned about efficient cost-cutting. There exists a significant air travel demand for the trio sector LHE-KHI-ISB of Pakistan. Besides this sector, there exists a massive demand for other domestic and international routes, specifically for the Middle East.
To cater to this demand, airlines increase their capacity by increasing the frequency of flights of a particular route. Therefore, AirSial can practice the model of low-cost carriers by reducing the operating cost by choosing a single type of fleet with an all-economy high-density seating layout.
It could also exclude the entire range of thrill services to entertain the passengers during their journey. It could introduce a lucrative frequent flyer program and other loyalty programs to acquire and retain customers. In this way, AirSial will make air travel accessible to non-specialists in Pakistan by granting discounts and low fares.
4V's Analysis
It is well known that for a low-cost carrier five performance objectives i.e. cost, quality, speed, dependability, and quality are targeted to achieve. However, it is pretty much understood that all of these five are not easy to attain at once. Therefore, AirSial could fragmentize its performance objectives with a vision to progressively attain all of them.
AirSial can go for a 4V (i.e. Volume, Variety, Variation, and Visibility) analysis to predict its position as compared to its competitors. By operating on a low-cost model, AirSial would definitely be able to carry more volume than its existing competitors.  However, due to budget specifications, it would provide the least variety and visibility. While variation remains the same constant for both types of carriers which could fluctuate depending on the peak hours for air travel as per the norms of the state.