Aviation Industry Needs Airlines like Serene Air
The last two decades in Pakistan Aviation Industry have witnessed some prominent players in the airline market. Airblue has spent more than 15 years to date whereas, Serene Air has completed 4 years this year. The airline has done really well in all these years. The airline started with three Boeing 737-800 aircraft. Owing to the good condition of the aircraft, passengers' preferences changed. In a short span of time, Both PIA and Airblue lost their market share in quick succession.
Serene Air, claiming to be extremely customer-oriented, providing customized services that a Pakistani passenger would expect, such as the daily new menu, infant travels for free, extra leg space, and better ambiance. The services attract Pakistani passengers but definitely, once the airline goes international and jumps into the competition where the onboard product is more focused than extra frills. It is yet to be discovered how well Serene Air will perform in the international market.
Market Share
Serene Air out passed Air blue and Pakistan International Airlines in two years. The airline secures roughly about 29% of the market share. While comparing its stay in the industry versus its fleet size, the airline has become the second biggest airline in Pakistan. It has also become the most successful airline in the medium-range carrier in Pakistan.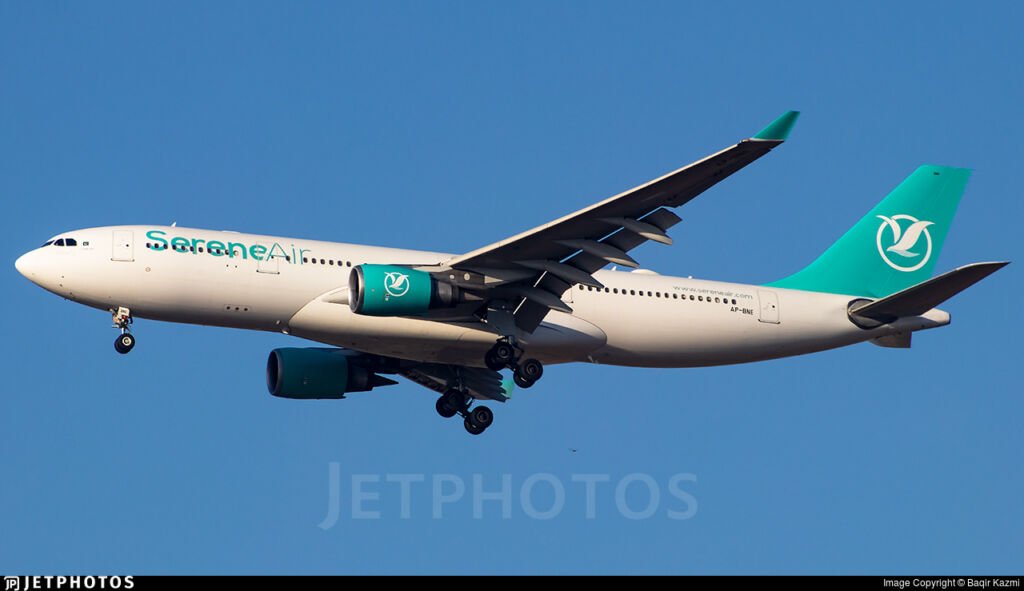 Statistics
Due to travel restrictions in 2020, air travel was almost nonexistent. However, statistics of 2018-19 show a remarkable shift in terms of passengers' preferences. A good number of domestic passengers opted for Serene Air during the first year of its operations. The statistics show that Serene grabbed the second-highest share of the passengers.
| | | |
| --- | --- | --- |
| AIRLINE | PASSENGERS | CARGO (M.TON) |
| PIA | 3,606,599 | 16,995 |
| SERENE AIR | 1,751,072 | 15,992 |
| AIRBLUE | 628,970 | 4,140 |
| SHAHEEN AIR INTERNATIONAL | 33,312 | 321 |
STATISTICS OF PASSENGER FLOW BY CAA, PAKISTAN (2018-19)
Analysis
Analysis of database shows that Serene Air managed to grab the second highest number of passenger volume after PIA. These numbers suggest that Serene Air has brought good business to Pakistan Aviation Industry. Within these two years, the airline has made a strong foothold in the industry. The airline had plans to touch base in northern areas. However, this move could not be materialized somewhow. With this growth rate, the airline is likely to bring more business to the industry in the future with a good profit margin. It will further help the airline to expand its international operations to farther destinations.