A brand new KLM Boeing 777 was damaged by Jetbridge during pushback. The incident happened on 22 April 2021. It is regrettable when such incidents happen, especially when the aircraft is brand new. The incident happened at Amsterdam- Schipol International Airport. The aircraft was a three-month-old KLM Boeing 777-300ER.
The incident happened because of the jetbridge that was not properly removed. The aircraft got hit by the jet bridge, which was too low due to a malfunction. It suffered minor fuselage damage. It was a scheduled cargo flight from Amsterdam Schipol Airport (AMS) to Shangai Pudong International Airport (PVG) via Seoul Incheon International Airport (ICN).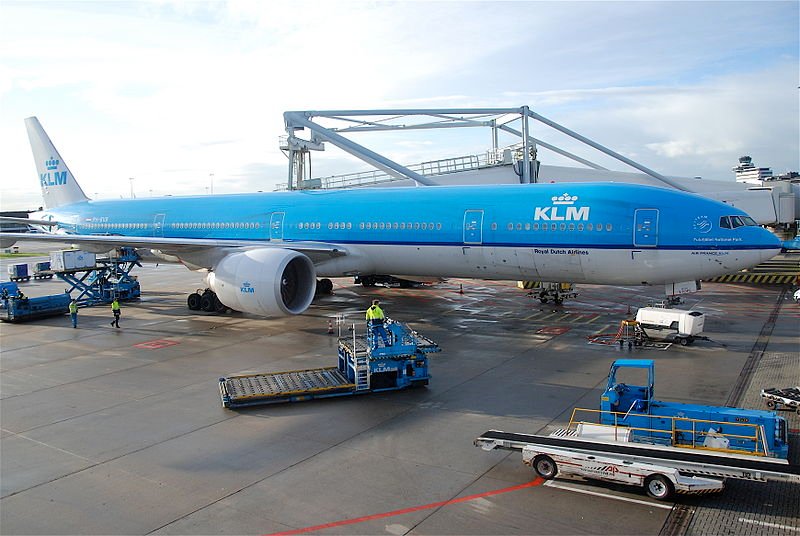 Inappropriately placed Jetbridge
This news comes via a Twitter account where a jetbridge is placed on the wing of Boeing 777-300ER. It is reported that due to an improperly removed jetbridge, the aircraft sustained minor damage. The incident happens to appear at Gate E20. No injuries were reported among the crew. The flight was changed to another aircraft and was delayed approximately 5 hours to reach its destination.
A brand new aircraft for KLM
KLM Royal Dutch Airlines have a total fleet of 115. It has 31 Boeing 777 aircraft, 15 Boeing 777-200s, and 16 Boeing 777-300ERs. The damaged Boeing 777-300 ER was registered as PH-BVV. It was delivered to KLM on March 24, 2021, listed as being 0.4 years old.
The jet is the KLM's second newest 777, just a few weeks younger from PH-BVW. The data from RadarBox.com shows that the aircraft has only operated 14 flights with a total of 80.8 flight hours.
Other jetbridge collisions at Schipol
There are not too many cases reported of jetbridge collisions. But collisions of other airport equipment with aircraft happen often. These types of cases are reported from time to time. These incidents sometimes happen due to human error and sometimes due to strong storms. It also happens when the equipment is not properly secured.
Another incident happened at Amsterdam Schipol Airport in July 2020. A TUI Boeing 787 Dreamliner was pushing for Curacao. It was damaged when it was pulled too far, and it caused the nacelle of the left engine to collide with the gate's jetbridge.
Source: Simple Flying