Two popular Middle Eastern flagship carriers, Gulf Air of Kingdom of Bahrain & Saudia Airlines of Kingdom of Saudi Arabia announced a codeshare agreement on 25th April. The agreement shall commence from the Summer of this year.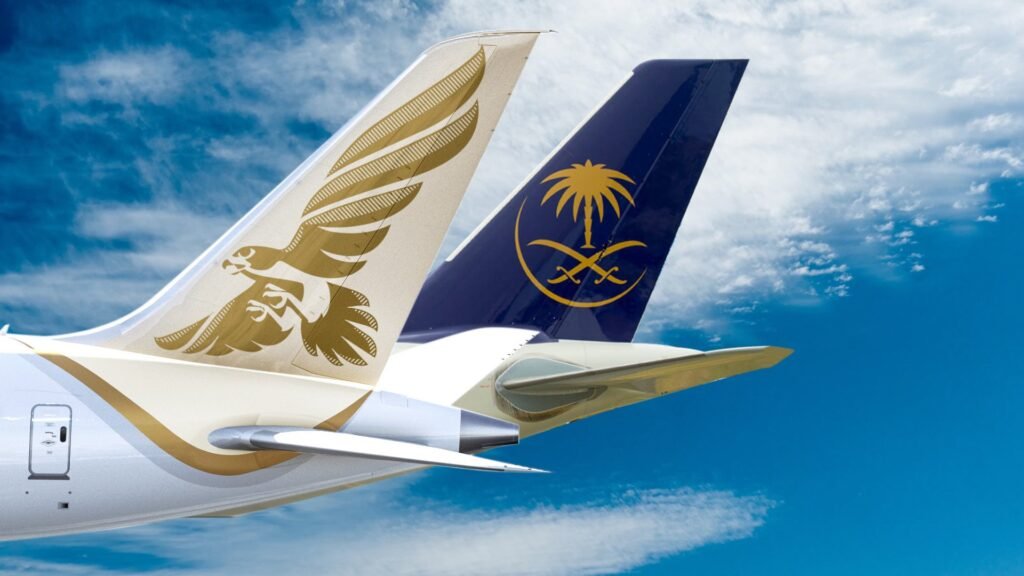 Gulf Air's main hub is Bahrain International Airport, while Saudi Arabian Airlines has three main hubs. These are based in Jeddah, Riyadh, and Dammam. However, Saudi Airlines will only connect passengers through its Jeddah and Riyadh hub. Saudi Airlines has a massive fleet of over 150 aircraft, whereas Gulf Air operates a total of 37 aircraft. Both airlines are the pioneers of Aviation in the GCC region with a legacy of over 70 years.
The codeshare agreement came after talks between both airlines to strengthen the ties that would benefit both airlines by expanding the route network. This would also strengthen the strategic partnership between both airlines and help provide travelers with a wider range of routes to fly with more flexibility and comfort.
The travelers will be able to choose a wider choice of destinations as well as International destinations. Travelers from Bahrain will be able to connect further to some domestic destinations in Saudi Arabia, which will also help in the tourism boost.
Codeshare Flight Codes
Gulf Air will specify the "GF" codes on the Saudi Arabian Airlines flight from Jeddah and Riyadh to Bahrain, and other destinations that include Abha, Jizan, Yanbu, Aljouf, Ha'il, and Tunis-Carthage. Similarly, the "SV" flight code shall be included on the Gulf Air flights from Bahrain to Jeddah and Riyadh, and other destinations including Sialkot, Faisalabad, Multan, Baku, and Tbilisi. Currently, there are limited destinations that shall be included in the codeshare agreement which may expand further.
Sharing these codes would help both the airlines to expand their network both Internationally and Regionally.
Statements by the Executives
The CEO's of both airlines made statements in response to their announcement regarding their latest codeshare agreement.
The CEO of Saudia Arabian Airlines, Capt. Ibrahim Al Koshy said that: "Saudia and Gulf Air are key partners in connecting guests on each carriers' diverse route networks." He added: "Both airlines have a long history of partnership, in which this expanded codeshare agreement further enhances connectivity, convenience, and flexibility for travelers."

The current Acting CEO of Gulf Air Capt. Waleed Al-Alawi also mentioned that: "The relationship between Bahrain and Saudi Arabia has always been strong on many fronts, and aviation is one of them."
Saudia – Member of Skyteam Airline Alliance
This should also be noted that Saudi Arabian Airlines is a member of one of the Airline Alliances, "SkyTeam", which provides its travelers with extensive global routes of the partner airlines. On contrary, Gulf Air is not a part of any of the 3 Global Airline Alliances.
Loyalty Program
Both airlines have a loyalty program for their travelers. The Loyalty Program of Gulf Air is known as "FalconFlyer", whereas, Saudia's loyalty program is named "Al Fursan Loyalty". With the codeshare agreement between the two airlines, there are its own perks. The travelers of both airlines will be able to earn and redeem their loyalty points when flying with Saudi Arabian Airlines. Likewise, Al Fursan Loyalty members will be able to earn and redeem their miles while traveling by Gulf Air. This provides some great perks for travelers opting for either airline.
Source: Arab News