On Thursday, 6th April, an Air Ambulance made an emergency landing in Mumbai with a patient on board. The flight was en route from Nagpur to Hyderabad. The air ambulance faced a sudden malfunction during the take-off from Nagpur. The five people on board were evacuated safe and sound.
The incident with Air Ambulance
JetServe charter aircraft VT-JIL was scheduled to fly from Nagpur to Hyderabad. The chartered aircraft was operating as Ambulance Flight with five people on board. Including a patient, 2 crew members, and a doctor. While taking off from Nagpur, the aircraft lost its wheel. The technical malfunction was observed by CISF (Central Industrial Security Force) staff. Immediately, ATC was informed, and Mumbai airport authorities were alerted.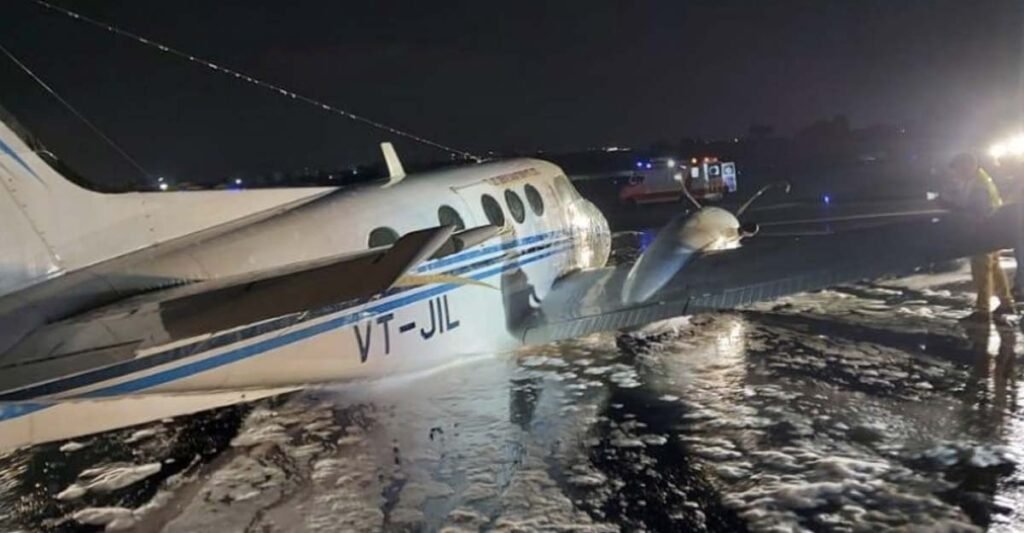 The Emergency Response Team was also on alert with all the Fire Brigade and Medical Team. ATC declared an emergency landing on the pilot. The runway was also foamed to avoid fire. The Airport officials were in distress and worried that the aircraft could catch fire. Therefore, all the precautionary measures were taken. The Director-General of Civil Aviation Authority, Arun Kumar, said,
"We were really worried. The pilot was told how to do a belly landing and was jittery. By God's grace, everything went off well. the operation went on for three hours."
Belly Landing
Since the ATC raised a distress call and declared an emergency landing, the airport authorities were on standby. At 9:09 pm, Pilot Kesari Singh made a belly landing at Runway 32, Mumbai International Airport. A Belly landing means when the aircraft is landed without the landing gear fully extended.
Although the belly landing was declared, the pilot of JetServe aircraft VT-JIL managed to make a successful belly landing. All of the five people on board landed safely at the Mumbai Airport. The Belly landing operation took 3 hours. Meanwhile, no hindrance occurred in the scheduled flight operations at Mumbai Airport. All the in and out scheduled operations remained on time.
Source: airlive.net , Featured Image: TheEcnomicTimes