Boeing 777-300ER and Airbus A350-900 XWB are recognized as long-haul airliners. Primarily, the B777-300ER and A350-900 XWB, both are designed to carry out long-haul flights. Moreover, the two jets B777-300ER and A350-900 are the production of American Boeing and European Airbus respectively. The Boeing 777-300ER is the prototype of B777-300 whereas, A350-900 is the initial variant of the A350 family. Boeing 777-300ER is the most successful variant in its type with a total of 838 orders so far. Simultaneously, the Airbus A350-900 XWB has received 747 orders since it entered into service in 2013.
Boeing 777-300ER
The American Boeing, B777-300ER was launched on 24, February 2004. The B777-300ER is a unique wide-body jetliner with a long-range. It has 396 passenger seats in a two-class seating arrangement. The twin-engine B777-300ER stands for its remarkable fuel efficiency and reduced costs. B777-300ER has generated boosted revenues for airlines since it has entered the Aviation Industry.
Moreover, it is powered by the world's most powerful twin engines and advanced onboard systems. The fuselage and upper wings of B777-300 are a 7000 series of aluminum alloy, the lower wings are a 2000 series aluminum alloy. The tail of the -300ER jetliner is made up pf graphite-epoxy composite. Furthermore, the B777-300ER has extended and raked wingtips. The efficient -300ER has an operating cost of US$44 per hour. The extended range model from 777 families, -300ER is the most preferred wide-body jet to date and has surpassed 2000 orders. The B777-300ER accounts for 827 orders out of the 2000 orders.
Airbus A350-900 XWB
The Airbus A350-900 was proposed to replace the aging A340. Airbus announced several variants including -800, -900, -900URL and -1000. However, A350-900 is the most successful commercial airliner due to its long-range. The A350-900 took its first flight with Qatar Airways in 2013. The super spacious A350-900 is designed with 325 passenger seats in a 3-class layout. Furthermore, the fuselage is built of carbon-fiber reinforced plastic which supports lower fuel burn. A350-900 has easier maintenance and offers increased resistance against corrosion due to its innovative clean-sheet design.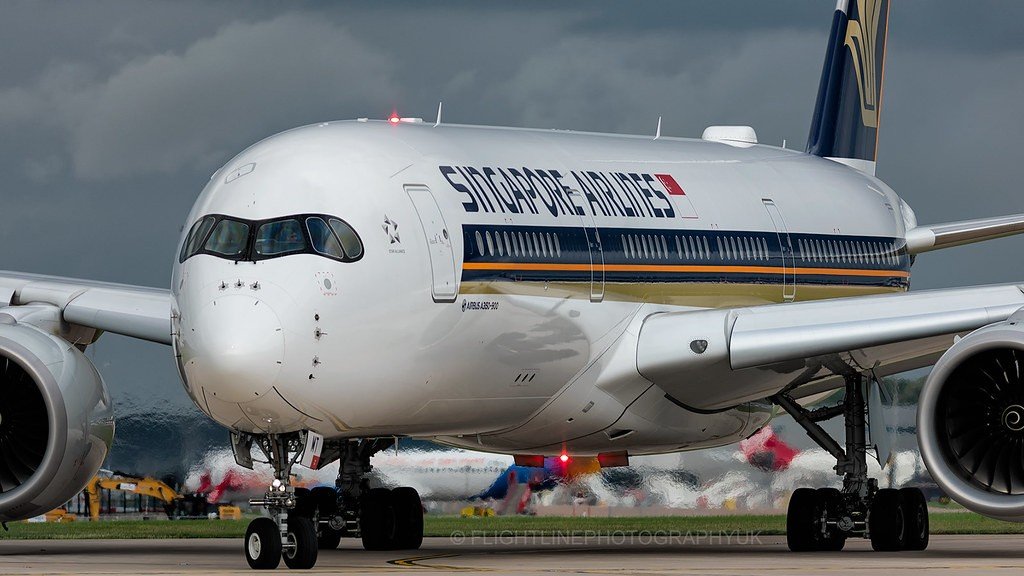 The jetliner's wings are also more efficient and quieter with an optimized design. Thus, the European manufacturer of Airbus A350-900 XWB claims that the jetliner has 25% lesser operating cost. Airbus has delivered 371 variants of A350-900 in total.
The Statistics
| | | |
| --- | --- | --- |
| Specifications | Airbus A350-900 | Boeing B777-300ER |
| Length | 66.80 m | 73.9 m |
| Wingspan | 64.75 m | 64.8 m |
| Wing Area | 443.00 m square | 452.00 m square |
| Height | 17.05 m | 18.5 m |
| Engines | Rolls-Royce Trent XWB | GE90-115BL |
| Range | 15,000 km | 1,3649 km |
| Total Thrust | 750 kN | 1,026 kN |
| Maximum Capacity | 440 | 396 |
| | | |
Operators of B777-300ER & A350-900 XWB
The Boeing 777-300ER is a long-haul commercial jet for numerous airlines around the globe. Currently, Emirate is its largest operator having 124, Boeing -300ER jets. Japan Airlines operates the 777 families as its flagship fleet out of which most of the aircraft are -300ER series. It is evident that -the 300ER variant is quite popular among Airlines. Moreover, some of the other potential customers of -300ER with the number of jets are mentioned below:
Air France (43)
Cathay Pacific (48)
Qatar Airways (48)
On the other hand, Airbus A350-900 XWB is also populous having a large number of operators. The largest operator of the A350-900 variant is Singapore Airlines with 52 jets in service. Moreover, Emirates has ordered 50 Airbus A350-900 variants which will be delivered by 2023. Other operates of -900 variant are:
Qatar Airways (34)
Cathay Pacific (27)
Conclusion: The Verdict
The face-off between Boeing 777-ER and Airbus A350-900 is very interesting since both the widebodies are induced with advanced features for fuel-efficiency. Although the dimensions of both the jetliners are almost the same, still the B777-300ER is exceptional. Currently, Boeing 777-300ER is the airline's favorite due to its long-range of 7,370 nautical miles. The -300ER variant offers an exceptional onboard experience. Moreover, it is powered with the world's toughest engines giving great strength and thrust to the giant bird. Hence, with remarkable features, Boeing 777-300ER is a successor of the A350-900.
Featured Image: Flickr