Derivative of the highly appreciated Boeing 707, Boeing presented its modified model in Beoing 707-120, also known as Boeing 720. The company intended to launch this modified version for shorter flights and smooth descend at shorter runways.
The narrow-bodied jet started its rule over the skies by joining United Airlines in 1960. From entering into the industry, Boeing built a total of 154 models of 720 and 720B till 1967. B720 offered quite a profitable return to Boeing as the derivative of 707, and it had less developmental cost.

Features of Boeing 720
This B-720 was almost 9feet shorter than that of its parent version, B707-120. For lowering the maximum take-off weight to the maximum extent, it had a lighter airframe with modified swept wings. The passenger cabin of this aircraft was capable of attending 149-165 passengers with three crew members. Boeing opted for four Pratt & Whitney turbojet engines to ensure lower fuel consumption. However, Boeing did not introduce an Auxiliary Power Unit (APU) concept in this jet. Resultantly, it relied on ground power to start the engines and other crucial systems of aircraft on the ground.
Technical Parameters of Boeong 720
This four-engine aircraft had the following features which distinguished it from the rest of the members:-
Propulsion
4 Turbofan Engines
Engine Model
Pratt & Whitney JT3C-7
Engine Power (each)
534 kN
12000 lbf
Speed
1009 km/h
545 kts
627 mph
Service Ceiling
12.802 m
42.000ft
Range
5.800 km
3.132 NM
3.604 mi.
Wing Span
3,988 m
130ft 10 in
Wing Area
2,340 m²
2519 ft²
Length
4,130 m
135ft 6 in
Height
1,262 m
41ft 5 in

Customers of Boeing 720
Owe to its popularity in making air travel a reliable and time-saving mode, airliners worldwide utilize this light model of 707. These airlines belong to the states like the United Kingdom, United States, Greece, Indonesia, Ireland, Denmark, Israel, Cambodia, India, Pakistan, and many more. This versatility of utilizers shows the effectiveness of this model to be used in developed, developing, and under-developed countries.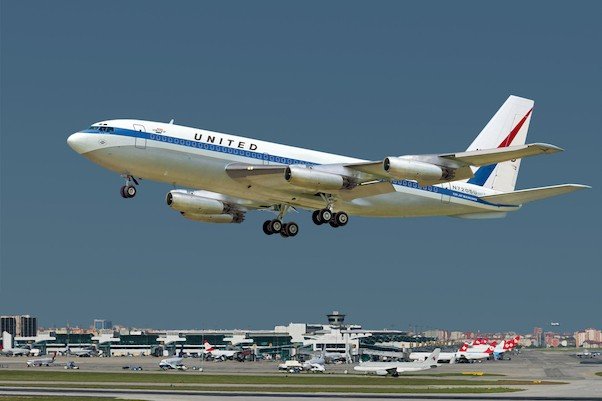 Misfortune Events of B720
During its glorified career, this commercial jet faced nearly 23 disastrous events. Among the fatal accidents, there lies Northwest Airlines Flight 705, Pakistan International Airlines Flight PK 705, and Middle East Airlines Flight 438. All of the accidents involving B720 resulted in 256 fatalities.  
Featured Image: Wikipedia Commons