It starts with a seat. And ends with a smile.
It is a Unique Selling Proposition (USP) of Singapore Airlines for its newly introduced Premium Economy Class on Airbus A-350-1000. Many airlines are flying the Airbus A350 around the world. It has remarkable endurance. It produces a 25% lesser carbon footprint than its competitors.
Premium Economy Class on Airbus A350
The idea is simple. Airlines have already lost major businesses during the pandemic. More than two years later, air travel is coming closer to pre-pandemic levels. Passenger traffic has shown an upward graph in the last few months but airlines are still struggling to catch up with the difference. Airlines are introducing Premium economy class in their fleet. Singapore Airlines and Qantas have chosen Airbus A350 as their Premium Economy carriers.
The first thing that comes to an economy class is the leg space. However, Premium Economy offers wider seats and better leg space. By design, Airbus A350 is a wide-body aircraft with the leverage to accommodate wider seats in its cabin. That is what attracts customers. The rest comes along with it.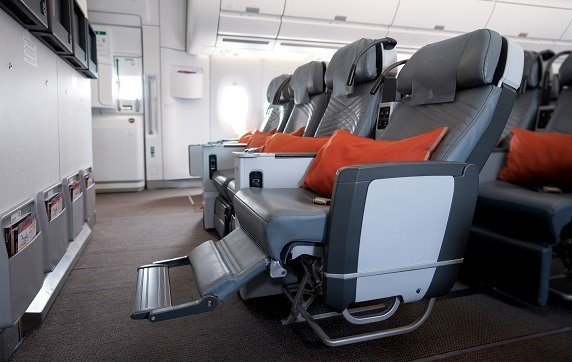 More Reasons to Believe
Airbus A350 has a spacious cabin to accommodate multiple classes of seating arrangements. An A350-1000 aircraft can carry 369 passengers with a range of 8700 NM / 16,100 km. Qantas wanted an aircraft that could operate directly on ultra-long-haul flights with a full payload. So, Airbus came up with its A350 variant-1000. The A350 is designed to serve long-haul routes. Moreover, it will be a good alternative for airlines using the Airbus A330. Though Airbus A330neo is also a good alternative as well. The airline has a concrete plan to use A350 in ultra-long-haul sectors. Project Sunrise is one such project.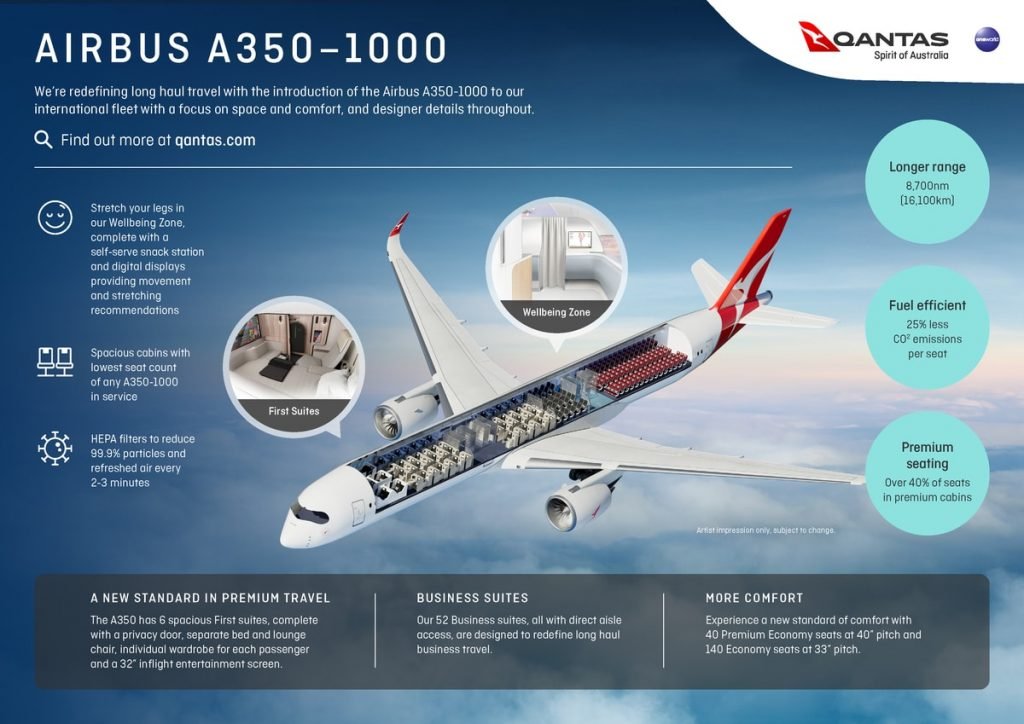 Project Sunrise & Airbus A350
Project Sunrise is a research project initiated by Qantas. It involves an aircraft to operate direct flights from the east coast of Australia to New York, Paris, and London. The airline is all set to operate nineteen-hour flights from Melbourne, Marathon, and Sydney reaching directly to their destinations without any stay. The project has come alive again just after post-COVID. Also, Qantas has decided to utilize A350-1000 aircraft on ultra-long-haul flights.
Last Words
Airbus A 350-1000 will go a long way in the aviation industry. Its freighter version is also expected to enter the aviation industry very soon. Many airlines have shown keen interest in Airbus A350 Freighter. By virtue of its exceptional performance and cabin space, it will be a highly beneficial aircraft; both in commercial and cargo configurations. The airlines will also be able to accommodate passengers in a much more comfortable seating configuration. As a result of better leg space, passengers will enjoy this seating configuration. In addition, they will also get improved services along with the new seating configuration. Over and above, it is a win-win situation for the airline and its customers.
Written by guest writer, Faisal Bashir