Airblue started as a startup airline in 2003 when the airline business was privately highly attractive. We saw quite a few private airlines in Pakistan operated between the 1990s and 2020. Airblue technically was the 4th private airline. It was then started by an initial investment made by ex-Prime Minister Shahid Khaqan Abbasi and an American Pakistani, Mr. Tariq Chaudhry. Airblue started operations in Mid 2004 with 3 Airbus A320s.
Expansion followed by growing sales with fascinating 90% load factors on domestic routes, Airblue emerged as a direct competition to airlines of that time. In 2005, airblue went international with the first flight to Dubai from Karachi. Airblue throughout history always operated the Airbus fleet. In 2012 Airblue became the first Pakistani private airline to fly direct flights to Manchester. With professionalism and enthusiasm due to strong organizational culture, Airblue holds a strong position in Pakistan's Commercial Aviation.
Steady Growth of Airblue
18 years since in Business Airblue has adopted the policy of steady growth rather, rapid expansion after learning from its mistakes. Airblue believes in keeping its stronghold in its current position. The current network of airblue has shrunk from what it was 10 years ago. Today airblue has its stronghold and market share in the domestic market and only flies to the United Arab Emirates and Saudi Arabia. Airblue connects Pakistan's largest cities to both of these countries. Since 2012 airblue slowly closed most of its routes in the middle east and also closed Istanbul and Manchester.
Previously, however, Airblue had a few Airbus A320 family aircraft only but the network was strong. Since 2014 airblue, started inducted Airbus A320s, and in 2017 Airblue inducted 5 more A321s, Airblue also operated a fleet of wet-leased Airbus A321s from Windrose Airlines and an Airbus A330-200 which was solely dedicated to the Lahore-Jeddah route during peak Umrah and Hajj season. By then airline realized not to expand but to grow in available resources. The airline shrunk its international network from 11 destinations to only 5.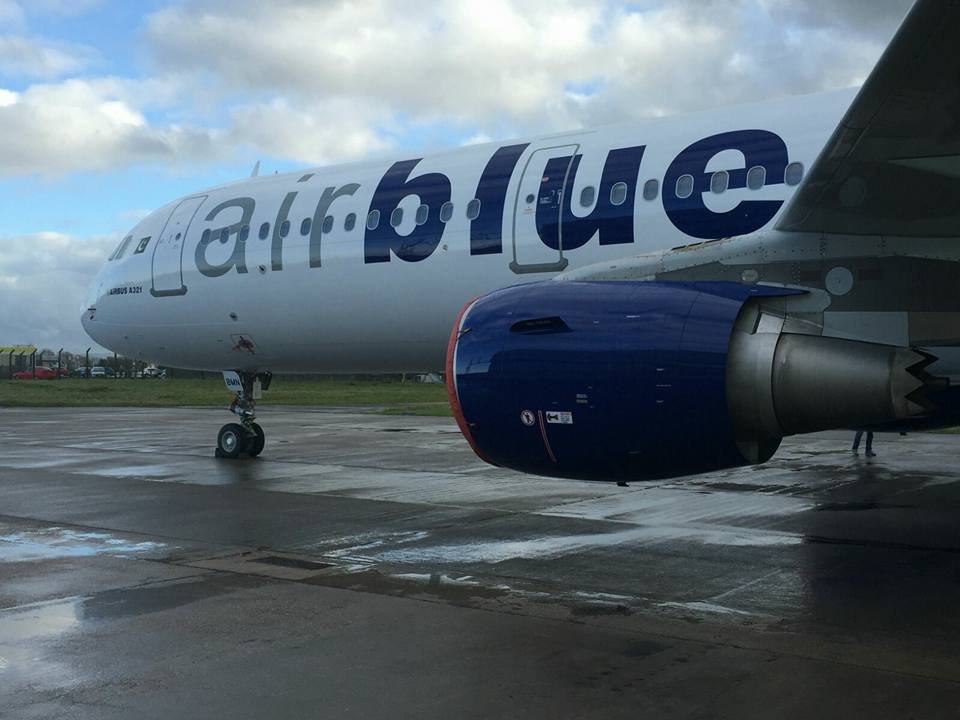 Adhering to Professionalism
Team Airblue from the higher management to the flight crew, or the ground staff, are trained professionals. After the unfortunate crash of flight ED202, in margalla hills back in 2010, Airblue took some intense decisions on CRM (Crew Resource Management). Improvising and learning from its mistakes, enable the airline to ensure extreme professionalism in all departments. Today, we see the safety standards and protocols are a top priority for airblue.
The concept of leniency does not exist anymore. Examples were set by the termination of violating staff. There were incidents of breach of SOPs and even experienced Captains were laid off from their duties and no compromises made by the management. This might not be something unusual for some segments, but in Pakistan, the culture that has developed in Pakistan Aviation has damaged the industry on all grounds.
Airblue's strict policies ensure all departments, managers, directors, cabin or cockpit crews adhere to the SOPs that are defined. This gives airblue an edge over its competitors such as PIA, Serene Air, and Air Sial. We will discuss their organizational cultures in their respective articles.
Customer-Oriented Airline
The performance overall impacts the airline's reputation. Airblue's current business model put the customer in focus. There are several channels that support Airblue's stance to be a customer-oriented airline. On-time flight performance, great meal selection, baggage policies, ease of refund, and change policies make airblue's policies customer friendly. Airblue recently introduced different fare classes to choose from which enables and targets a certain set of travelers to choose fare classes based on additional services they may require.
This practice is only offered by Airblue sales in recent policy updates to allow passengers to choose a far that is without checked-in baggage or no refund and change of tickets. This approach targets a different category of travelers to choose between what suits them.
Airblue has recently announced to join the US airline market by launching a sistership Airbahn. Both airlines will share resources to engage in enhanced business activities.